Young Carers App
We know young carers need the right support around them so they can care for their loved ones whilst looking after of their own physical and mental health, and helping them meet some of the unique challenges they face. That's why we are pleased to promote the Young Carers App.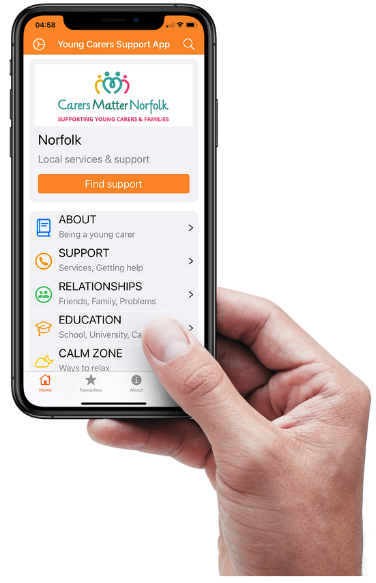 The Young Carers Support App enables young and young adult carers in the UK to find information and advice, self-help resources, wellbeing tips and activities, plus a catalogue of support services – all in one place.
A number of young carer organisations worked with Expert Self Care Ltd, to launch the Young Carers Support app which is free and available for any young carer, or professional working with young carers to download on both Android and iOS:
There is also a range of local information about support available for young carers in Norfolk.
The app offers clear and easily accessible advice and is a comprehensive resource for young carers and professionals working with young carers and young people.
The app carries the Patient Information Forum 'PIF Tick', the only UK quality mark for trustworthy health information.