Here you'll find a list of support that's on offer to young carers at Christmas and New Year. The Christmas season can be a time when many of us are able to have a break and enjoy ourselves. But if you are looking after someone, it means that you may have quite a different experience – you may have more family and friends around to offer some support, but you and the person you care for may also face a range of challenges.
For example, you may be affected by:
some of your normal routine of activities and support not being held
missing the support of school or the routine it gives you
not being able to see friends because you have to spend more time caring
not being able get a break from your caring role because you're not at school and / or services are closed or open for less hours
There are steps you can take to help with this, and to know where the right support is available if you need it.
Planning ahead – and having an emergency plan
Being a young carer can be difficult at the best of times, but it can be extra hard if something unexpected happens, either to yourself or the person you are caring. It can be tough for young carers at Christmas and New Year when services are reduced or closed. What happens if the person you are caring for with a health condition deteriorates? What happens if you are unwell yourself and unable to care?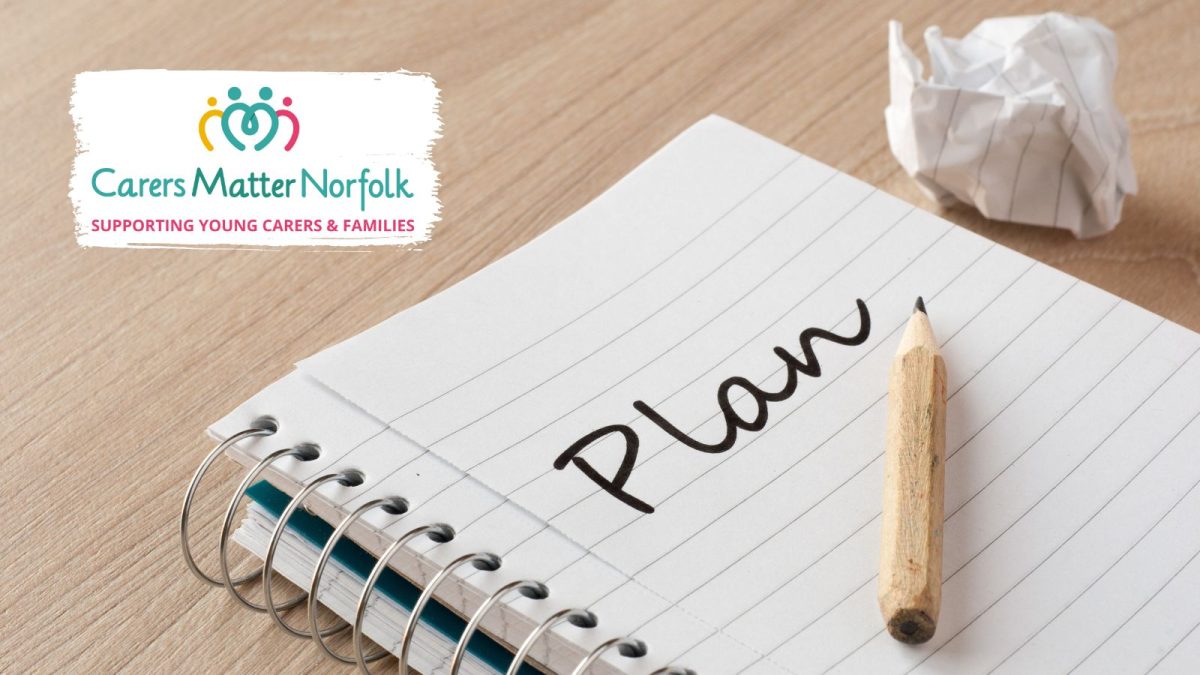 Planning ahead can help young carers at Christmas and New Year manage these changes. It should make life easier for you and the person you look after as well as for other people you spend time with over this period. You will know what to do and, if necessary, who to ask for help.
If you put an Emergency Plan in place, you and your family will find it easier to get the extra support you need quickly.
Talk to family and friends about your plan, and raise any worries or concerns you have with them, chat through how certain parts of your plans may work. Say what you and the person you care for are likely to find helpful and useful. Also explain what may be challenging for you as a young carer at Christmas.
You can find a blank Young Carers Emergency Plan to complete here
Asking for help and support
Talk to your family and friends. See what opportunities there are for you to have a break, or share caring responsibilities at times.
People may not be aware of what is involved in your caring role and its demands until you explain the situation to them. Particularly if they have not seen you or the person you care for recently, or there have been changes in your situation.
Stay connected with any support over the break and other young carers you may know. Talk about what's going on and how you feel.
Your wellbeing
It can be difficult for some young carers at Christmas and New Year, especially if you or the person you care for normally benefits from set routines or services which are now closed.
You may find it helpful to get some support for your mental health, or getting support for the person you care for. There is support and help available for both of you.
If you or the person you care for need urgent help with your mental health call the NHS on 111 and choose option 2.
You can contact Childline about anything. Whatever your worry, it is better out than in. Call 0800 1111. You can also talk to the Samaritans anytime on 116 123. Their support is not just for those who are feeling suicidal.
Kooth offers young people free, safe and anonymous online support and counselling, you can find out more by visiting www.kooth.com. Any adults you know who may be struggling can access Qwell www.qwell.io
Norfolk and Suffolk NHS Foundation Trust have resources about mental health conditions available at www.nsft.nhs.uk/mental-health-conditions
WellbeingNandS are available to help. You can visit their website www.wellbeingnands.co.uk/norfolk/ or call their non-emergency number of 0300 123 1503.
Norfolk and Waveney Mind have a range of support and resources available to help if you are supporting an adult with their mental health. See www.norfolkandwaveneymind.org.uk/ or call 0300 330 5488.
Staying warm & well
NHS advice suggests that when the weather drops below 8°C, some people are at increased risk of physical and mental health conditions; such as heart attack, stroke, pneumonia and depression. It can have an impact on your physical and mental health.
With colder weather, having the right advice and support for staying warm is important. Norfolk County Council has got further information on help available during the cost of living crisis and keeping warm & well this winter.
Check Christmas opening times
Some services may not be available during the normal hours during the Christmas period. Check with services before Christmas to find out when they will be open. Also find out what plans they have made for emergencies.
It is worth checking the opening times of your GP. Depending on the services you regularly use, check those of your local pharmacy and other support you may need.
Carers Matter Norfolk, Young Carers & Families service will close from 5pm on Friday 23rd December. We will reopen at 9am on Tuesday 3rd January.
Norfolk and Waveney pharmacy opening times Christmas and New Year
Emergency numbers
If you need help with care the person you support receives or you are worried that a child or an adult is at risk of harm you can contact Norfolk County Council by phone or text relay.
Telephone: 0344 800 8020 – this number is open 24 hours a day
Text relay: 18001 0344 800 8020 – for people with hearing or speech impairments
In an emergency call 999.